Valley of the Moon


Located in the heart of Sonoma County, Valley of the Moon Winery has operated as a winery since the 1860s. George Whitman, the original pioneering vintner, planted the first grapes on this land and built the winery in 1863. His enterprise was successful and in just four short years he was annually producing 50,000 gallons of wine and 2,000 gallons of brandy. In 1881, Whitman granted a portion of his property to the Sonoma & Santa Rosa Railroad Company. A passenger train station was constructed and tracks from Sonoma to Glen Ellen were laid down.
Whitman subsequently sold the winery in 1883 to Eli T. Sheppard, former consul to China and an advisor to the emperor of Japan. It was renamed Madrone Vineyards and in 1887 he began constructing the first of two stone wine cellars. Later in 1888, due to poor health, the estate passed to the hands of Senator George Hearst, father of William Randolph Hearst. Senator Hearst further developed Madrone Vineyards into a serious winemaking operation, proudly serving his wine to guests in Washington, D.C. In 1891 with his death, the property was passed on to his widow.
Winemaker Greg Winter.

At the beginning of the 1900s, the winery changed owners several times with Union Trust Company of San Francisco acquiring it in 1905, followed by Louis Engelberg in 1922. Prohibition then took its toll and the winery was closed in the 1930s.
Madrone Vineyards was revitalized in 1941 when the estate was purchased by Enrico Parducci and Peter Domenici and renamed Valley of the Moon Winery. The name is derived from the native American word for Sonoma, which means "Valley of the Moon." Based on local Miwok Indian legend, the name described the way the moon appears to rise many times over the jagged peaks of the Mayacamas Mountains to the east.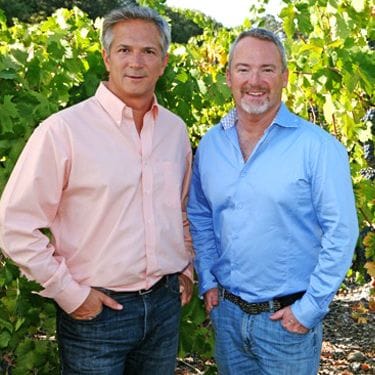 The Parducci family continued to produce wines at Valley of the Moon until March 1997 when neighboring Kenwood Vineyards/ F. Korbel & Bros. purchased it. They made significant improvements, building a new winemaking facility in 1998.

Owners Dan Zepponi & Tony Stewart.

Today, Valley of the Moon Winery enters another renaissance under the direction of new ownership—long-time vintners and good friends—Dan Zepponi and Tony Stewart. Working closely with the winery team, they are combining the property's significant heritage with its inspiring future to provide guests with exceptional wines and an extraordinary experience that is authentically Sonoma.

For special offers, events, new releases and more